Inheritance at Holiday homes in Loire France La Roche sur Yon: a capital in the Loire Valley Vendee
Holiday home in Loire France near La Roche sur Yon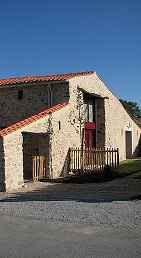 Holiday homes in Loire France at La Roche-sur-Yon France in the Loire Valley Vendee was just one village insulated in the middle of the Vendean Countryside.
La Roche sur Yon is at 30 minutes to Les Sables d'Olonne.
Napoléon city
The current city was founded by Napoleon 1st and was inaugurated in 1804.
Built on a granitic rock which overhangs the Valley of Yon, Napoleon Bonaparte chose La Roche-sur-Yon France in the Loire Valley Vendee as the Prefecture town because of its central and strategic position in the middle of the department.
The new city has been the object, ever since, of constant development.
The construction of rail and road networks serve the town well at just a few kilometres from the Atlantic coast and less than 3 hours from PARIS.
Its 53.000 inhabitants are called the 'Yonnais'.
Inheritance
The Napoleon circuit invites you to discover, the architectural and urban heritage of the historical Center of the city. (A leaflet is available from the Tourist bureau at La Roche-sur-Yon France.)
The Renaissance House in Rue du Vieux Marche is a memorial place within the City. This very old residence (1566) of Italian architecture dominates at the corner of the Rue du Vieux Marche. It exhibits the history of the city and of the aircraft manufacturer Rene Couzinet.
The Saint Louis church : this major monument of the city is characteristic of the neo-classic architecture which marks the beginning of the 19th century.
The municipal Theatre built in 1846, constitutes an example representative of neo-classic architecture, along with the Saint Louis church and the Law courts which are located around the Place Napoleon.
The National Stud farm : Come  and discover an areaentirely dedicated to horse in 4 hectares of greenery right in the heart of the city.
La Rue du Roc overhangs the Valley of the yon on the cornice opposite the castle, this district shelters the home of the Rock and the house of the Seneschal whose terraced gardens date from the first half of the 18th century.
The Clemenceau district: this shopping area extends between the Place Napoleon and the Place de la Vendee.
The Market District: the new markets were refitted in 2000, and are fitted out with a large glass roof. The food market takes place from Tuesdays to Saturdays from 7 am to 1 pm.
And numerous parks and gardens…
Holiday homes in Loire France La Roche sur Yon
Confort, Charm, Harmony
Grade 5 stars